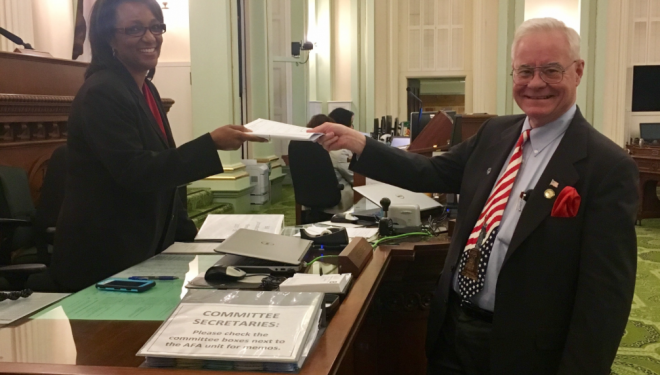 SACRAMENTO – Assemblymember Randy Voepel announced today that he has introduced AB 353, Veteran Employment Parity Act (VEPA), would establish a voluntary preference for employers to grant veterans during the hiring process.
"Today's law only allows for employers to give preference to Vietnam-era veterans when it comes to hiring decisions," said Voepel. "My bill would expand this law to include all Veterans, regardless of when they served. This ensures that, if they desire, employers can give preference to veterans who have served since the end of the Vietnam war, ensuring that veterans of Iraq, Afghanistan, and other conflicts receive preference when it comes to employment.


"As a member of the Veterans Affairs committee and a Vietnam veteran myself, this piece of legislation is close to my heart. The Veteran Employment Parity Act will ensure that veterans across our state, no matter when they served, have equal opportunity to quality employment."
AB 353 is the first bill Assemblyman Voepel has introduced (click here for picture). The bill has attracted nine Co-Authors so far in the Assembly and Senate.
To view the legislation, please click here.
Assemblyman Randy Voepel represents the 71st Assembly District, which includes the communities of eastern San Diego County, including Alpine, Borrego Springs, Casa de Oro – Mount Helix, El Cajon, Lakeside, Jamul, Julian, Ramona, Rancho San Diego, Santee and Spring Valley; and southern Riverside County, including Anza, Aguanga, Idyllwild-Pine Cove, Lake Riverside and Mountain Center. Prior to his election to the Assembly, Voepel served as the Mayor of Santee for 16 years.