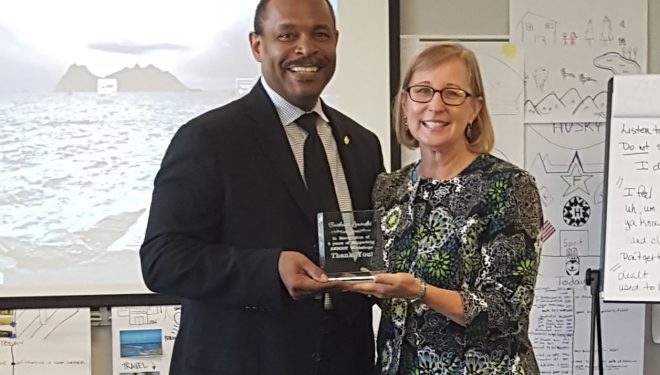 Today after conducting her last mock interview for REBOOT, in a small ceremony in front of the veterans she has committed to support, retired Navy Captain Barbette Lowends bided them farewell.
Barbette Lowndes was the Director of Total Workforce Management at Space and Naval Warfare Systems Command (SPAWARSYSCOM) in San Diego, California. Total Workforce Management involves civilian, military (active and reserve component) and Contractor Support Service (CSS) manpower. Barbette was responsible for strategic workforce planning and forecasting, collecting and maintaining workforce management data, preparing integrated responses to various data calls/inquiries and leading a highly visible and complex undertaking aimed at reflecting SPAWAR program and mission requirements with regard to civilian, military and CSS data.
Barbette retired from the US Navy after 27 years of active service. She was a Captain in the Supply Corps at the time of her retirement. Barbette Lowndes graduated from the U.S. Naval Academy in May 1980 with a Bachelor of Science degree in Oceanography. She was a member of the first class to graduate women. She holds a Master of Arts degree in Business Management from Webster University and a
Master of Arts degree in National Security and Strategic Studies from the Naval War College. She is a graduate of the Senior Executive Institute at the University of North Carolina Kenan-Flagler Business School.
Barbette has been volunteering as a Mock Interviewer for  REBOOT Workshops since its inception in June 2010 and was REBOOT's longest serving volunteer. She also volunteered as a Budget for Baby Workshop Leader for the Navy-Marine Corps Relief Society.
NVTSI President Maurice Wilson thanked Barbette for her faithful and consistent support not only for REBOOT, but for all veterans, and wished her the very best in her future endeavors.
After receiving a token of appreciation, Barbette commented:
"REBOOT is such an important program for transitioning vets. My first questions at the mock interviews are always, "How have you enjoyed ReBoot?" and "What is the most important thing you've learned?" Every person lights up with pride and confidence in his/her ability to take the experiences and training from the military and cross over to a new career. This pride and confidence comes from what the students learn at ReBoot from the speakers, mentors, and fellow students. I am so proud to have been a part of the ReBoot team."
Barbette plans to spend time with her family and refocus her life.