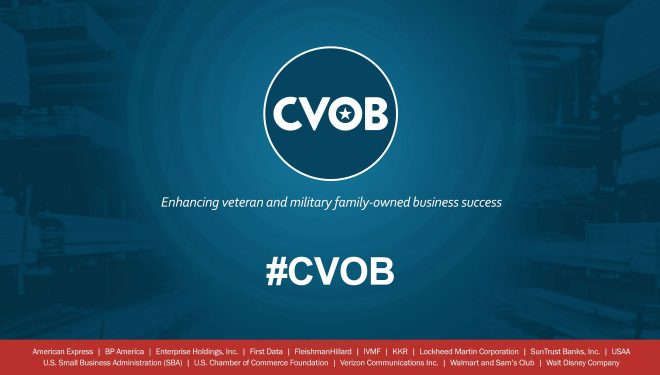 SYRACUSE, N.Y., May 4, 2015 (GLOBE NEWSWIRE) — First Data Corporation and the Institute for Veterans and Military Families at Syracuse University (IVMF) have partnered with leading companies, government agencies, non-profits and others to launch the Coalition for Veteran Owned Business. This first-of-its-kind national initiative will support the success of veteran, service member, and military family-owned businesses by connecting them with entrepreneurial education and training, small business resources and solutions, and commerce and supplier opportunities.
The companies and organizations joining First Data and IVMF include American Express, BP America, Enterprise Holdings, Inc., FleishmanHillard, KKR & Co. L.P. (KKR), Lockheed Martin Corporation, SunTrust Banks, Inc., USAA, the U.S. Small Business Administration (SBA), the U.S. Chamber of Commerce Foundation, Verizon Communications Inc., Walmart and Sam's Club, and the Walt Disney Company. They will be joined by a growing list of industry leaders and non-profits that all pledge to support veteran and military family-owned businesses in a host of ways aimed to increase opportunities for these American businesses.
This initiative will formally launch at a kick-off event on Tuesday, May 5, 2015, from 4-6 p.m. EDT at the Knight Studio at the Newseum in Washington, D.C.
In addition to providing innovative solutions and thought leadership, the Coalition will advocate for and support businesses operated by the greater military and veteran community, including both business-to-business and business-to-consumer models.
There are currently more than 2.5 million veteran-owned small businesses in the U.S., which generate $1.2 trillion in annual sales and employ more than 5.8 million Americans. For the first time, a diverse set of companies with large supply chains will focus on creating new opportunities to bolster the contributions of these businesses, to enhance local and regional manufacturing of goods, and to help them ensure the delivery of high-quality services.
The coalition launch event, held in conjunction with the SBA's National Small Business Week (May 4-8, 2015), will feature discussions on the role of veteran, service member, and military family-owned businesses in private sector supply chains, along with a focus on supplying services, marketing and promotion to enable these Main Street businesses to reach their customers.
"Our collective vision is grounded in sustaining economic opportunity and growth for all veteran, service member, and military family-owned businesses through corporate leadership, advocacy and the development of a comprehensive online platform that supports their businesses as well as the employment of veterans and military families," said Dr. Vivian Greentree, senior vice president and head of Military and Veteran Affairs at First Data. "There is a reciprocal, impactful benefit to the business partners who support veteran-owned businesses."

"By creating and strengthening business-to-business commerce between veteran businesses and our corporate and industry partners, the coalition will serve as a catalyst for economic opportunity, employment, sales growth, business-to-business purchasing and collaboration, a strengthened client base, and mutually beneficial promotions," said James Schmeling, IVMF managing director for programming.
The coalition will be able to leverage the other entrepreneurship and small business management programming currently offered by the IVMF through its partnership with the SBA and other public-private initiatives, including the Veteran Career Transition Program (VCTP), the Entrepreneurship Bootcamp for Veterans with Disabilities (EBV), EBV-F for family members, the Veteran Women Igniting the Spirit of Entrepreneurship (V-WISE) program, Boots to Business, Boots to Business: Reboot, and VetNet.
According to Dr. Mike Haynie, executive director of the IVMF and vice chancellor for Veteran and Military Affairs at Syracuse University, "By engaging corporate, non-profit and governmental organizations, the Coalition will help veteran, service member, and military family entrepreneurs connect with organizations, resources and information that enable them to start or grow their businesses and create more jobs for veterans and military spouses within their communities."
For more information about the Coalition for Veteran Owned Business, visit veteranbusinesscoalition.org.
The Coalition kick-off event will be streamed live online, Tuesday, May 5 from 4:00 PM – 6:00 p.m. EDT here: veteranbusinesscoalition.org/watchlive/
– See more at: http://globenewswire.com/news-release/2015/05/04/731750/10132383/en/National-Coalition-for-Veteran-Owned-Business-to-Launch-on-May-5.html#sthash.LAcwuitZ.dpuf