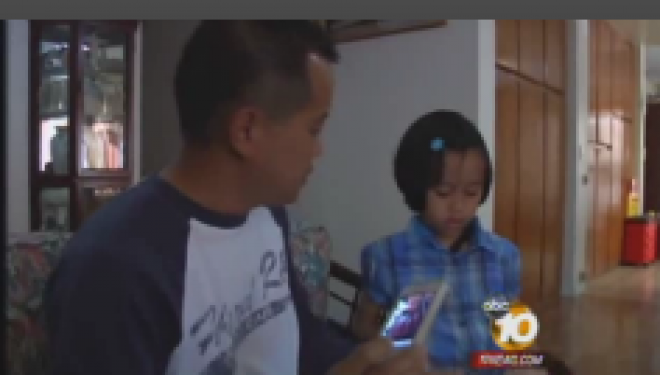 Sunshine Foundation Sending Santarin Family To Florida
It's a dream come true for 7-year-old Francine Santarin, who has severe autism and is deaf, but wears a hearing aid. Francine has two more sisters and one brother — he also has autism.
The Sunshine Foundation is sending Francine and the rest of the Santarin family to Florida to visit several theme parks.
"I'm so happy they were to help a family like us," said Francine's father, Francis Santarin.
"What do you think Francine would say?" asked 10News reporter Craig Herrera.
"If she could talk, she would be happy. She would scream of happiness," said Francis Santarin.
Francis Santarin just returned from his second deployment overseas, this time onboard the USS Makin Island. While he was away, Santarin's wife was at home with the children.
Soon the family will be at the 22-acre Sunshine Foundation Dream Village, complete with cottages, playgrounds and swimming pool. All expenses will be covered, including airfare, a rental van and spending money.
"And they'll be told to just go off and enjoy for the time that they're there. Just go to the theme parks and just have fun and have Francine enjoy her dream come true." said Sunshine Foundation President Kate Sample.
Francis Santarin said he had another dream come true — no more deployments.
"I will check in over at North Island for shore duty, three years, so I'm so happy with that. I'm going to be with them every day, no more ship, no underways," Santarin said.
He said he can help his wife with the children and watch them do the things they love.
"That's what she likes to do, you know, draw pictures on anything, sketch." said Santarin said of Francine.
The Sunshine Foundation has granted wishes to more than 36,000 children since 1976.
For more information, sunshinefoundation.org.