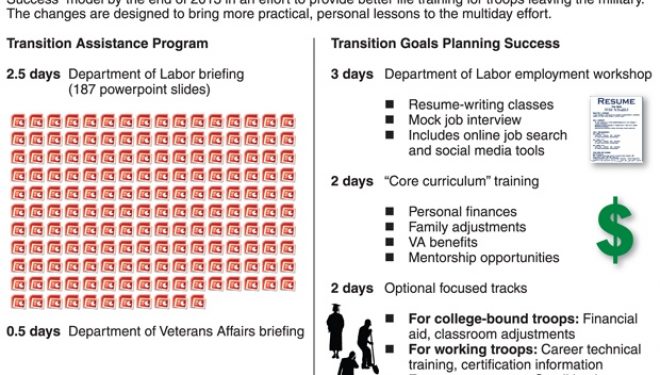 WASHINGTON — Troops leaving the military will go through a five- to seven-day reverse boot camp covering job skills, personal finances and veterans benefits under a new initiative to be announced by President Barack Obama on Monday.
At a speech before the Veterans of Foreign Wars national convention in Nevada, Obama will outline the program — dubbed Transition Goals Planning Success, or Transition GPS — as part of a wider effort to help curb veterans unemployment and the difficult integration into civilian life for many troops.
The overhaul is the first significant change in the military's Transition Assistance Program in more than 20 years. It comes in response to criticism that the current three-day voluntary program is outdated and too superficial.
According to senior administration officials, the new Transition GPS will include a pre-separation assessment and individual counseling for all troops, development of an personal transition plan, and certification that the servicemember has met "career readiness" standards before leaving the military. The program also includes efforts to provide career counseling and credentialing opportunity throughout a servicemember's military career, officials said.
The new five-day transition curriculum, created by an interagency task force, will cover lessons in basic budgeting tips, resume preparation, dealing with family adjustment issues, and translating military skills into a civilian environment. Representatives from the Departments of Labor and Veterans Affairs will brief outgoing troops on post-service benefits.
Officials said troops will also be offered another two-day course in one of three categories: attending college, getting a technical or civilian-credentialed job, or starting a business from scratch.
The new program won't be fully implemented throughout the military until late 2013, but officials said seven military installations have already begun pilot programs testing the new approach. About 300,000 troops are expected to go through Transition GPS annually once it is fully implemented.
In the past, such transition programs have been optional. But legislation passed by Congress late last year called for improvements to the program and making the efforts mandatory for all but a few senior servicemembers and some troops with immediate work opportunities.
https://www.stripes.com/news/us/mandatory-reverse-boot-camp-will-prepare-troops-to-leave-military-1.183688#.WQJlpWWseqQ