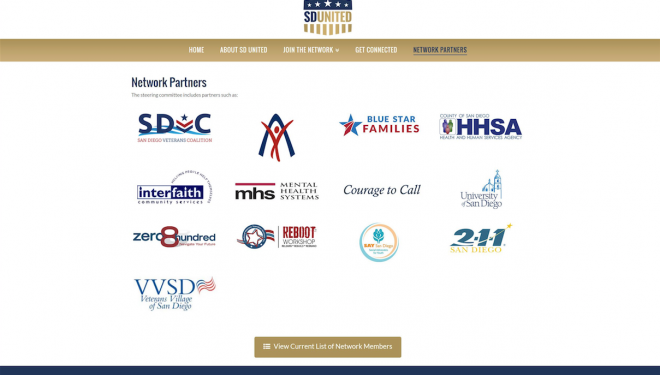 WHAT:
After a six month development effort to build the region's first care coordination technology platform designed specifically for military and veterans and their families, the Vets Care Coordination Steering Committee with support from 2-1-1 San Diego is formally launching "SD United" on Monday, February 6, 2017.
WHY:
Leveraging the work of groups like the San Diego Veterans Coalition, and the region's Peer to Peer hub at Courage to Call, SD United is implementing a care coordination network aimed at improved access for our Veteran/Military Families, and enhancing the rich community collaboration in our sector. Built on the fundamental pillars of collective impact, this network is being built across 13 key community service areas affecting our military and veteran community with shared outcomes to ensure that resources are best deployed to ensure no one falls through the cracks. The goal of SD United is to build and maintain with quality and efficiency a trusted Care Coordination system that results in long-lasting and impactful results and easy access for our military, veterans and their families.
Elected officials will join private sector and local veteran and military providers and leaders at the event to be held on Monday, February 6, 2017 at 10 a.m. at the 2-1-1 San Diego at the Connections Center.
WHO:
Supervisor Greg Cox, County of San Diego
Dr. Robert Smith, Veterans Affairs San Diego Healthcare System
Mary Jo Schumann, Ph.D., Caster Family Center for Nonprofit and Philanthropic Research, University of San Diego
Daniel Brillman, Unite US
Bill York, 2-1-1 San Diego
John Ohanian, 2-1-1 San Diego
Gabriel Kendall, 2-1-1 San Diego
WHEN:
Monday, February 6, 2017 10:30 a.m. press conference
WHERE:
2-1-1 San Diego at the Connections Center 3860 Calle Fortunada, San Diego, CA 92123
VISUALS:
Demonstration of the SD United Technology system Speakers will be available for one-one-one interviews following the event.
Visit Website